Age:
35
Birthplace:
Modesto, CA
Residence:
Escalon, CA
Height/Weight:
5'11" / 165 lbs.
Marital Status:
Engaged
Children:
Daughters Marissa—12 yrs old, Macy—6mos
Years in Racing:
22
First Race:
Mesa Marin Raceway October 17, 1999
First Win in West Series:
Thunderhill Raceway September 30, 2006
Favorite Food:
Tacos
Favorite Beverage:
Red Bull
Favorite Color:
Blue
Favorite Music:
All types
Hobbies:
Racing, watching daughter barrel race
I couldn't live without...:
Marissa, Macy, Lauren and racing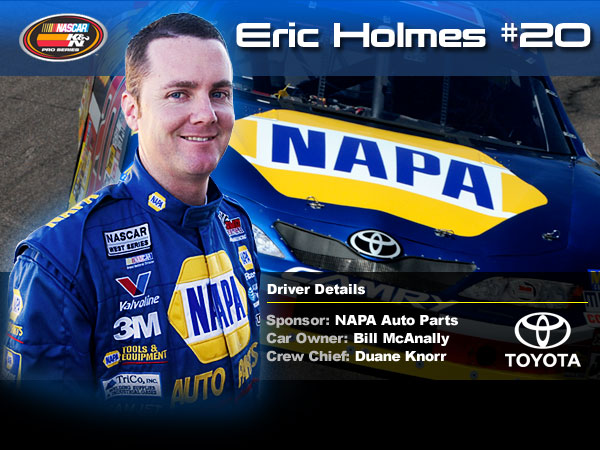 CAREER HIGHLIGHTS
Eric Holmes is the 2008 NASCAR K&N Pro Series West Champion. He is also the 2006 series champion. He nearly made it a double championship that year as Eric competed in the final season of the NASCAR Featherlite Southwest Tour. He missed winning that championship by only one point. Of active drivers in the NASCAR K & N Pro Series West, Eric is first in career Coors Light Pole Awards with twelve.

In 2009, Eric recorded three wins, six top-five's and eleven top-ten finishes in thirteen NASCAR K&N Pro Series West races. The 2008 championship marked the first in the series for manufacturer Toyota and the fourth for race partner NAPA AUTO PARTS.
Meet the BMR 20 Team

Team Owner
Bill McAnally
Driver
Eric Holmes
Crew Chief
Duane Knorr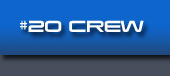 | | |
| --- | --- |
| | |
| Art Streeter | John Gaynor |
| | |
| Bryan Tasnady | Les Boller |
| | |
| Stephen Godett | Robert Godette |
| | |
| Joe Fernandez | Bill Maropulos |
| | |
| Kaye Reshaw | |